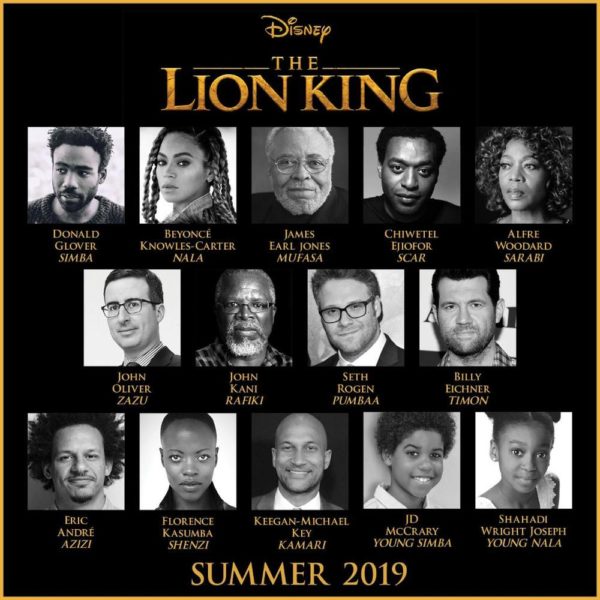 Beyonce is set to voice Simba's childhood friend turned love interest Nala in the live-action remake of Disney's "The Lion King," the singer and studio announced Wednesday.
The 36-year-old pop megastar confirmed the long-rumoured role in a Facebook post that showed headshots of the voice cast, also revealing that Keegan-Michael Key ("Why Him?", "Storks") will be playing a hyena named Kamari.
Alongside Beyonce — and mostly previously announced — will be Donald Glover as Simba, James Earl Jones reprising his role in the 1994 animated movie as Mufasa, and then Nigerian born British actor, Chiwetel Ejiofor as his nemesis Scar.
Comedian John Oliver was confirmed as Zazu, while other big names in the production — set for release in July 2019 — include Seth Rogan and Billy Eichner.
"It is a director's dream to assemble a talented team like this to bring this classic story to life," said director Jon Favreau, who helmed Disney's hit live-action remake of "The Jungle Book" (2016), in a statement confirming the cast.
The production will build on Disney's hugely lucrative reimagining of that movie and several other classics from its vaults — including "Beauty and the Beast," "Maleficent" and "Cinderella" — for contemporary audiences.
"The Lion King" is one of the biggest animated films of all time, with a lifetime global box-office gross of just under $1 billion.
It won Oscars for the song "Can You Feel the Love Tonight" by Elton John and Tim Rice, and for its score by Hans Zimmer, plus two Grammy Awards, with the soundtrack selling more than 14 million copies.
The stage production made its Broadway debut in 1997 and went on to win six Tony Awards.
Translated into eight languages, the film's 23 global stage productions have been seen by more than 85 million people. The worldwide gross for the brand exceeds that of any film, Broadway show or other entertainment title in history.
Stunning early footage of the live-action version shown at Disney's D23 fan convention in Southern California in July climaxed in the iconic moment when Rafiki introduces newborn Simba to the animals of the savannah.
"This is a story that belongs to everyone who grew up with the original film," said Favreau.
"I wanted to demonstrate that we could be respectful of the source material while bringing it to life using new techniques and technologies."
AFP